If you follow me on Facebook or Twitter, you've already seen this news – but just in case, I am so pleased to announce that:
Italy Explained has been nominated as "Best Travel Blog" in the Italy Magazine 2016 Blog Awards!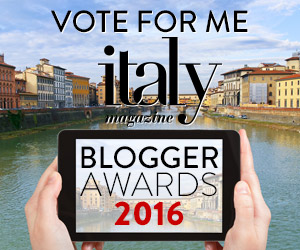 Now, please pardon me while I get a little emotional about this.
When I started Italy Explained in 2014, I had been writing about traveling in Italy for seven years. I had started a website for a former employer and grown it into a thriving community and Italy travel resource. I was immensely proud of it.
When I lost that job, I lost that website. I lost all that work. And I had to start over.
Italy Explained is now almost three years old, and the list of things I have planned for the site is long. I am so, so honored to be nominated in the category of "Best Travel Blog" for Italy. It is, in fact, the first time Italy Explained has been nominated for an award. It's a meaningful recognition of how far I've come with the new site, and I couldn't be happier – particularly when I look at the other sites that have been nominated. It's a stellar group of Italy resources, many of which are written by friends of mine. (I do have some pretty great friends, I must say.)
At any rate, thanks a million for keeping me motivated, Italy Explained readers. I only do this because of you.
Now, this is one of those contests that's entirely based on voting. I do not like to be hounded by other people about casting votes in these things, so I will not hound you. I will simply put the link here once and let you click through if you want to. I will, of course, be thankful if you choose to vote for Italy Explained.
Many happy returns!