My friend Doug wrote a really enjoyable book about traveling through Europe in 2009 using only a 1963 guidebook. When he gave me my signed copy, he inscribed it with, "Don't read chapter nine." That chapter is about Venice, a city he knew I adored, and in which he did not have a very good time.
I read it anyway.
Later, I told Doug (half-jokingly) he had just "done it wrong," and I'd be happy to offer tips for his return visit, which I was sure would be different. He has yet to take me up on that offer, but when he mentioned that his mother was going to be visiting Venice and was asking him for advice, I raced to reply. "Be nice," I said at first, followed by, "Better yet, don't tell her anything. Send her to me."
I exchanged a few emails with Doug's mom, who was already in Rome by that point (it was snowing when they visited Pompeii, she said – pretty, but too miserably cold to actually enjoy it), and headed for Venice as it was in the throes of prepping for this year's Carnevale. She was appreciative of my tips, liked the hotel I suggested, and that was that.
Until I got the mail the other day, and this arrived.
A delightful postcard from Doug's mom, with the Campanile in one of my favorite cities on earth asking where I am. The image still makes me grin.
Thank you, Patricia, for the lovely postcard – and I am so glad you had a good time in Venice! Now we just need to convince Doug to go back…

---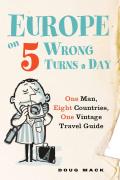 Even if Doug got Venice wrong, I still recommend the book. It's great fun, for experienced and novice travelers alike.
In addition to Venice, the book features chapters on Florence and Rome, as well as other major European cities on the typical Grand Tour.
The link in the book image to the right will take you straight to Powells.com where you can buy a copy, and it's available an many other bookstores – online and off.

You can see more of the reader feedback I've gotten on the Italy Explained press page, too.